Notícies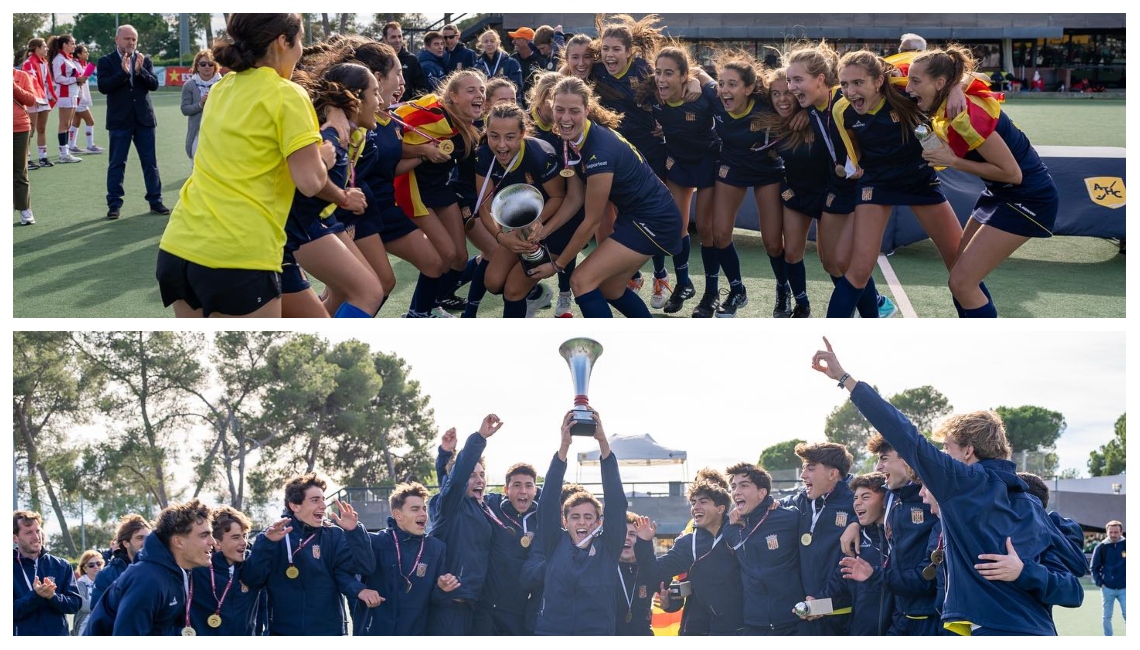 CATALONIA, REVALIDATES ITS CHAMPION TITLE IN THE AUTONOMOUS UNDER-18
2/11/2023
The Catalan men's and women's under-18 teams have once again shown their supremacy at the Regional Championships, achieving the title of champions for the sixth consecutive season.
The Regional Championships were held from October 29 to November 1 at the Atlético Terrassa facilities and eight national teams participated in them: CATALONIA, Euskadi, Valencian Community, Principality of Asturias, Madrid, Cantabria, Galicia and Andalusia.

Both teams have only conceded one goal against in the entire championship, the women's in the final and the men's in the semifinal; both having as a rival the Madrid selections.

The women's team beat Euskadi 3-0; by 7-0 in the Principality of Asturias; by 2-0 in Cantabria in the semi-final and by 3-1 in Madrid in the final match.

The men's team beat Andalusia by 7-0, the Valencian Community by 5-0, Madrid in the semi-final match by 3-1 and in the final in Euskadi by a resounding 6-0.

Mònica Hernández received the TOP SCORING award; Ton Morán for BEST PLAYER; Max Costa for BEST GOALKEEPER and Joan Francesc Fernández for MAXIMUM GOLEJADOR.

The champions are: Mario Vallès, Max Costa, Àlex Duran, Lluís Armenteras, Ton Morán, Marc Martin, Guillermo Marco, Jan Trujillo, Matías Barón, Arnau Masclans, Ignacio Pujol, Carlos Bultà, Quim Coral, Pol Agell, Albert Serrahima, Joan Francesc Fernández, Guillermo Umbert and Santi Martin. The staff was formed by Oriol Torras - selector -, Joan Díaz - team leader -, Albert Lis and Jordi Fitó - technical assistants -, Jaume Borràs - goalkeeper trainer -, Marc Calvó - physiotherapist -, Martí Sancliment - trainer physicist- and David Ferrer -video analyst-.

The women's team has been formed by Núria Giménez, Júlia Viñas, Clara Pérez, Blanca González, Mònica Hernández, Júlia Amorós, Cristina Maristany, Marta Comadran, Ivet Martí, Jordina Gutiérrez, Ariadna Alen, Clàudia Gómez, Elia Pagès, Andrea Armenteras, Marta Armenteras, Cèlia Milán, Mireia Gifra and Franca Ferraro. Stefy Piris was the selector; Flavia Rosso the second coach; Jaume Borràs the goalkeeper coach; Ferran Ramal and Jordi Masip the technical assistants; Lorena Gutiérrez the physical trainer; Alex Martínez the physiotherapist; Maria Tost and Lucia Escolà the team leaders.